Promoting Healthy Smiles
As a dentist, I focus on providing positive dental experiences for my patients. A lot of people have had negative dental experiences and may even have dental-related fears. I work with each patient to help them overcome their anxiety and learn that today's dentistry is comfortable and truly pain-free.
I want my patients to be comfortable with their treatment, not only physically but emotionally. I want them to be active participants in deciding which care options are right for their life. By giving them knowledge and control, I relieve some of their concerns.
The best moments, for me, are at the end of a procedure when a patient looks at me and says, "That wasn't bad at all!" That statement, and the accompanying smile, makes my day. – Dr. Thomas Graf
Education and Continuing Education
Dr. Graf's Doctorate of Dental Surgery (DDS) was awarded by the University of Illinois at Chicago. That education gave him an excellent understanding of dentistry. However, this is a constantly evolving profession. New methodologies, materials, and technology all improve the care and treatment results for patients. By pursuing continuing education, Dr. Graf ensures he's providing the best care possible.
Dr. Graf has completed courses in mini dental implants, Endodontics (root canals), and periodontics, which is the treatment of gum disease. He has also studied many restorative dental topics, including fillings, bondings, veneers, crowns and bridges, and dentures.
Professional Memberships
American Dental Association
Wisconsin Dental Association
Winnebago County Dental Association
Personal Life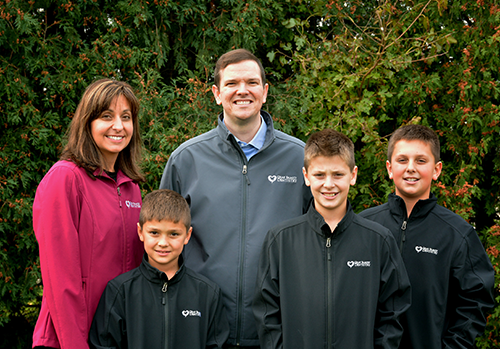 Born and raised in Orland Park, IL, which is in the Chicago area, Dr. Graf has lived in the area since 2002. His wife Michelle, who's his partner in the dental practice, and he met in dental school. The couple has three young sons: Neil, Ryan, and Eric. They also have a dog named Kermit; that's Kermit the Dog not Kermit the Frog. He's a retriever mix.
When Dr. Graf is not at work his priority is time with his family. He coaches his boys' baseball teams. Dr. Graf like sports and plays tennis and golf. He also collects and plays pinball machines. He plays in pinball tournaments and is currently the Wisconsin State Champion.