Making Smiles Happen
I am passionate about helping my patients learn to enjoy coming to our office. I believe each person should feel better leaving than they did coming in. Whether I've removed dental pain, decreased their anxiety, or helped them love their smile more, I want them to be happy. Patients should leave with a smile and not worry about their next visit.
I enjoy seeing families, from kids through grandparents. We're a family here and I like caring for families. It's fun to get to know the children in our practice. Everyone works hard to ensure they have only positive experiences, so they learn this is a fun place to visit. I equally like working with our older patients, hearing their stories and sharing in their lives.
I love helping people feel better about their oral health. Whether it's a thorough dental cleaning, getting them out of pain, or improving their smile, I want them to feel good about themselves and the care we provide. – Dr. Michelle Graf
Education and Continuing Education
Bachelor of Science in Biology, University of Illinois Champaign-Urbana
Doctorate of Dental Surgery, University of Illinois Chicago
Dr. Graf knows that continuing dental education is vital to delivering the best treatment. Changes are always happening in dental materials, applications, and procedures. These changes improve the quality of care and make the treatment experience more comfortable for patients. Each year Dr. Graf completes many hours of continuing education, learning from leaders in the profession.
Professional Memberships
American Dental Association
Wisconsin Dental Association
Winnebago Dental Society
Personal Life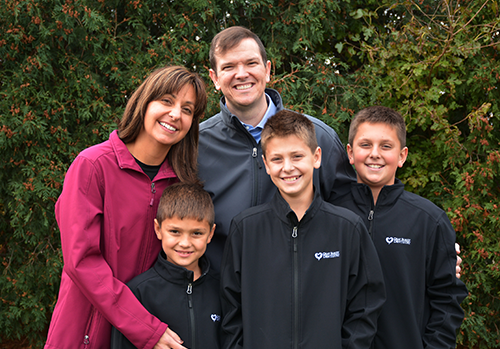 Dr. Graf grew up in the southwest suburbs of Chicago, IL. She and her husband, Tom, her dental partner, met in dental school. They moved to the area in 2002 and have three active sons. When Dr. Graf isn't working or juggling her boys' schedules, she can be found exercising, running with the family dog, playing tennis, or gardening and doing yard work.
Giving back to the community is important to Dr. Graf. She helps with childcare for the local MOPS program. She also volunteers at the Tri County Dental Clinic to provide dental care to people who are unable to afford regular visits. Additionally, Dr. Graf is a den leader for Cub Scouts.